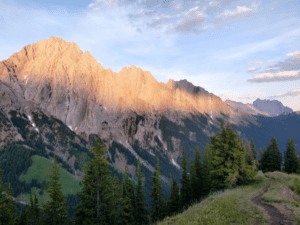 Alberta Hiking Association Newsletter
July, 2023
AHA's Bighorn Hiking Trail Project
Logging in the Elbow Valley
Highlights from the Minister of Forestry and Parks Mandate Letter
Participate in a University of Alberta Research Project
Friends of Kananaskis Newsletter
AHA Board Recruitment and introduction of a new Board member
AHA's Bighorn Hiking Trail Project (west of Nordegg)
The AHA's Bighorn Project is underway! Our Alberta Parks grant arrived. The Board quickly moved ahead to hire our Project Coordinator, Marla Zapach, from Nordegg. Marla has started to recruit and organize volunteers and work with Parks staff to install and monitor trail counters and cameras on about 20 selected hiking trails in the area. The cameras will provide valuable information on trail usage. Volunteers will be trained to conduct physical trail assessments on approximately 11 identified hiking trails using a standardized and approved methodology. Recommendations for trail improvements, based on the assessments, will be submitted to Alberta Parks. Equally important, Marla will work to identify opportunities for groups in other parts of Alberta to be involved in similar projects. The AHA anticipates this work will be completed in 2024/25.
The Project Coordinator: Marla is a Nordegg resident who has volunteered with the AHA for over 6 years. She encourages the non motorized exploration of the wonderful Bighorn area where she has spent the last 10 years. Certified in project management and evaluation as well as wilderness first aid and group hiking management, she's eager to introduce Albertans to this wonderful area on their doorstep.
Logging in the Elbow Valley: A Perspective
The current Board of AHA has not dealt with issues around logging impacts on trails although previous Boards may have.  We are aware that concerns are growing about proposed logging in parts of the Elbow Valley of Kananaskis Country and that there are often concerns associated with logging or other land uses (e.g., grazing, petroleum exploration and development) wherever it occurs in the Eastern Slopes or in the northern parts of the province. 
It is recognized that logging is a traditional activity on provincial crown lands, that it produces a useful product for domestic or export use, and that it is an important economic activity in many parts of the province.  It also has an important role in forest management and conservation.  Nevertheless, it is often controversial as people may be surprised that it is allowed in what they thought was a "park", because it results in major and large-scale changes to the landscape (i.e., the scenery) and often the trails that exist.  Opinions vary widely on the appropriateness and manner in which logging occurs and how it is done especially in areas popular for trail recreation. 
The AHA has not actively participated in reviewing and commenting on logging plans but is aware that some of its member clubs or individuals have done so.  At this point, we invite any members, or non-members, to advise us on whether, and how, the AHA should respond to increased logging and perhaps other land uses that occur on non- park provincial crown lands.  Please contact us at info@abhiking.ca with your comments.
Minister of Forestry and Parks Mandate Letter: A Few Highlights
Developing and implementing a plan for more than 900 new campsites and several new locations for comfort camping over the next 10 years.
Investing an additional $5 million in trail upgrades for Kananaskis Country and building new trails and campgrounds across Alberta.
Bringing stakeholders together to develop a Crown lands recreation and conservation strategy to expand public access while protecting natural spaces.
Enabling the expansion of trails, campsites, and other public land use opportunities by Alberta entrepreneurs and other organizations.
Exploring the best ways to improve infrastructure and services in Kananaskis, Canmore, Waiparous Creek, Crowsnest Pass, and other high-traffic recreational areas.
Contact the Minister of Forestry and Parks Mandate for the full Letter:
Participate in a University of Alberta Research Project
You are invited to participate in this research study about human-wildlife coexistence and trail-based recreation. The researchers are interested in learning about your trail use and thoughts about wary wildlife species (e.g., bears, wolves, cougars). The results of this study will be used in support of a doctoral dissertation and master's thesis at the University of Alberta and the Université de Bourgogne Franche-Comté. To learn more participate click on this link:
https://survey.ca1.qualtrics.com/jfe/form/SV_bym75JLIhxeZJXM
Check out the Friends of Kananaskis July Newsletter, always an interesting read. The current edition includes information on the new Cloudline Trail in the Canmore area and a formula for estimating the temperature "up there" at your hike destination. You can find the newsletter here:
https://mail.google.com/mail/u/0/#inbox/FMfcgzGtwMcHTZqxlnnWBgmntqkjZchS
AHA Board Recruitment
This is a pivotal time for the AHA and we need to expand our small volunteer Board.  If you have an interest in helping to guide AHA, a provincial association dedicated to the interests of hikers and snowshoers, please check out our website at https://abhiking.ca and contact us at info@abhiking.ca to learn more about the organization and Board responsibilities.   
At this time three members of the AHA Board have stepped down or their terms have expired: Marla Zapach, Erick Dow and Anita Thomas.  We are delighted that Marco Baldasaro and Heinz Unger have agreed to join the board, however, we still need at least two additional members!
Marco Baldasaro: Marco moved to Calgary from Kitchener, Ontario to attend law school. Prior to that he obtained both a Bachelor of Arts and a Master of Arts in English Rhetoric from the University of Waterloo.  Marco spends hie free time exploring our mountain parks; skies in the winter, and hikes, bikes, and trail runs in the summer.  Professionally, he practices law at McLennan Ross LLP in Calgary, where he is a partner. He is particularly interested in professional discipline and construction litigation.
Heinz Unger: Heinz lives near the Ghost River Wilderness Area west of Cochrane. After a 30-year career as civil and environmental engineer in consulting and later in international development, Heinz began a second career in ENGO work in watershed stewardship (GWAS) and nature conservation (AWA and RMERF). Major interests are to keep our valuable local and regional resources well managed and protected.
AHA Membership
To become an AHA member, or renew your membership, please fill in the online form on our website. Individual memberships are $15/year, organizational memberships are $50/year. Please contact us at info@abhiking.ca. for more information.