Alberta Hiking Association Newsletter
January 2023
       Contents
·     Alberta Trails Act Update

·      AHA's Bighorn Project

·      Winter Hiking:  Staying Safe

·      Banff National Park Report: Moving People Sustainably
·      AHA Membership

The Alberta Trails Act
The AHA hosted a Zoom presentation December 12/22 on the Alberta Trails Act. Jamie Bruha, Director, Land and Environmental Planning Branch, Alberta Environment and Protected Areas,  update our membership on the progress implementing the Act.
The 2022 Trails Act enables Alberta Environment and Protected Areas to manage and protect trails on all public land. In the past, the trail regulations only covered public land use zones (PLUZs) which are about 10% of public land. The department is close to finalizing related policy documents needed to fully implement the Trails Act.
The department does not have the staff to manage trails across the province and relies on stakeholders to help out.  The Trails Act allows this relationship to be formalized as Trail Managers or partners which then allows for efficient maintenance of trails for a safe and enjoyable experience.
Currently, the Alberta Snowmobile Association and the Alberta Off Highway Vehicle Association are working with the department at the provincial level to designate snowmobile and OHV trails with the hopes of becoming Trail Managers in the near future. The Friends of Kananaskis Country and the Bragg Creek Trails Association receive funding from the Department to help look after trails.  On a side note, a plan has been developed to improve the Prairie Mountain hiking trail however there is no date is set for implementation.
The department is working on a trail management plan in the Nordegg area, which, when approved, will designate a number of non-motorized trails for biking and cross country skiing in that area.
The current (short) list of non-motorized designated trails can be found at: 
Alberta's Designated Provincial Trails
.
Please send any questions or comments about this article to the AHA board through the Contact Us form of the AHA website.  We look forward to hearing from you.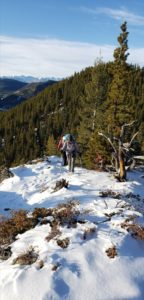 AHA's Bighorn Project
The AHA is currently completing an Alberta Parks grant proposal aimed at encouraging and building capacity in the Bighorn area trail community. If approved, AHA will recruit and train volunteers to assist government staff to install and monitor a series of trail counters and cameras. Volunteers will also receive training and carry out physical trail assessments on a number of identified hiking trails in the area. The AHA is very hopeful this initiative will increase trail volunteerism in other area of the province resulting in an increase of good hiking opportunities.
Winter Hiking: Staying Safe
On January 9/23, the AHA hosted another Zoom education session for members. This time, Darren Vonk, Kananaskis Mountain Rescue, Kananaskis Region Alberta Forestry, Parks and Tourism presented on safe winter hiking. The following are Darren's key points that we all need to consider when hiking in winter:
On January 9/23 the AHA hosted another Zoom education session for members. This time, Darren Vonk, Kananaskis Mountain Rescue, Kananaskis Region Alberta Forestry, Parks and Tourism presented on safe winter hiking. The following are Darren's key points that we all need to consider when hiking in winter:    
Check the avalanche bulletin at https://www.avalanche.ca/en/map a

nd know how your route selection interacts with avalanche terrain, and then, of course, know how to manage and deal with avalanche terrain if you find your self in that terrain.

Check the weather forecast.  Multiple sources can be found, such as: www.Spotwx.com, www.weather.gc.ca, www.weathernetwork.com or your favorite sites.    

Wear proper footwear for the day's objective. Waterproof and high-top boots are nice. Consider gaiters to keep the snow from entering the top of your boot.

Hiking poles with baskets are great for stability.

Have emergency equipment in your backpack such as a first aid kit, shelter, warm clothing, water proof clothing, extra gloves, head lamp, chemical warmers, repair kit for your equipment, and fire starter.

Have food and water appropriate for the days' objective.

Bring navigation aids: paper maps, cell phone maps with your route downloaded if out of cell service, an extra battery bank for electronics with appropriate charging cables. Apps like Gaia, fatmaps, google earth, Cal topo, Canada topo, and AllTrails are useful.

Consider taking a survival course for some basic introduction to snow shelters, staying warm and dry, and tips for unexpected nights out.
Note: The AHA also recommends that hikers have an emergency satellite communication device such as inReach or SPOT when out of cell phone range.
Other sources of safety information include: www.facebook.com.kananaskispublicsafety, Instagram @kananaskissafety, and www.albertaparks.ca.
Banff National Park Report: Moving People Sustainably
Parks Canada has posted their expert advisory panels final report on transportation within Banff National Park.
The report can be found here:  
https://www.letstalkmountainparks.ca/moving-people-sustainably
This report presents 8 main actions to address the ever increasing private vehicle use in Banff National Park including a major move to a public transportation systems similar to popular parks in the USA and Europe.
The AHA urge all our members to review this report and complete the associated survey of opinion by the current deadline of February 5th.
The AHA board will be sending a letter to Parks Canada which will be posted  on our website.  We are in agreement with the panel that the current rates of private vehicle use and the resulting congestion and insufficient parking makes many popular destinations (Moraine Lake for example) increasingly inaccessible.
We also agree that it is very important to not "overdevelop" the park by significantly expanding parking lots.  It is crucial that alternative public transport systems are convenient, well coordinated, and affordable.
AHA Membership
To continue to represent the interests of hikers, walkers and snowshoers in Alberta, we need your help! We need you to work with us to help protect our parks and wildlands.
To become an AHA member, or renew your membership, fill in our online form and mail a cheque to the Alberta Hiking Association. Alternatively, you can pay online via PayPal. Please find the form and more information here: Become a Member Now.
We are also looking for board members and committee members. If you have any questions, please do not hesitate to Contact Us.
We look forward to meeting you along the trail!